Model Citizens – Circus Oz [Canberra]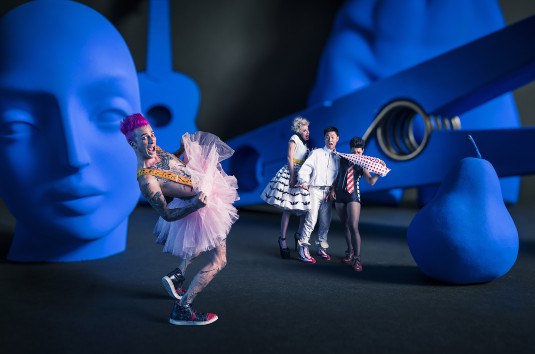 Ticketing Information
AUSLAN-INTERPRETED SHOW
Date/Time:
Saturday August 18, 2018 - 1:30 PM
Location:
Canberra Theatre Centre – Playhouse
Civic Square on London Circuit
Canberra City, ACT 2601
Australia
Tickets:
(Starting from $55)Can call to box office and ask for Auslan tickets - Phone: (02) 6275 2700
Interpreter:
Lauren Napper-Ferrari
Language/ Cultural Consultant:
Website:
https://canberratheatrecentre.com.au/show/model-citizens/
About the Show
The always innovative Circus Oz returns with the first production for the company by new artistic director Rob Tannion, exploring what it means to be a 'model citizen' in Australia today through awesome physicality, biting satire and highly skilled, unpredictable acrobatics.
With an impressive cast of mesmerising aerialists, cheeky characters, daredevil acrobats, cigar box juggling, hula hooping and backyard banter, Model Citizens subverts the suburban dream.
Set inside a model kit world complete with giant scissors and cotton reels, peg springboards and hammock-sized undies on the line, the performers swing from knife-dodging to acrobat-tossing, contorting through huge steaming irons to tumbling off a house of giant credit cards.
With a brand new ensemble of performers, a thumping live band and set design that challenges scale and perspective, the latest Circus Oz show brings a fresh sophistication to the troupe's larrikin personality, delivering exhilarating family-friendly feats with poise and charm.
"A masterpiece that blows our socks off and tickles our feet at the same time" Theatre Press
"An under-appreciated gem in our national cultural identity" The Guardian