Share the Spirit Indigenous Music Festival [Melbourne]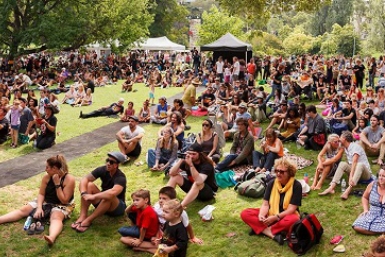 Ticketing Information
AUSLAN-INTERPRETED SHOW
Date/Time:
Friday January 26, 2018 - 1:00 PM
Location:
Treasury Garden
2-18 Spring Street
East Melbourne VIC 3002, VIC 3002
Australia
Tickets:
Interpreter:
Kelly North & Linda D'Ornay
Language/ Cultural Consultant:
Website:
https://whatson.melbourne.vic.gov.au/Whatson/Music/Festivals/Pages/c22796ef-c298-44ec-a666-05ca3271fe16.aspx
About the Show
Balit Narrun – Share the Spirit Festival is an annual outdoor concert that centres around music created by indigenous artists with a focus on showcasing the true diversity of indigenous performers across different genres. This free, family-friendly festival attracts an annual audience of around 5000 people.
The artistic direction for 2018 is about 'strength in culture' and will feature dancing and music. There will also be cultural art stalls, food trucks, and activities for young people on the day.